KhonePhaPheng waterfall, Champasak, Laos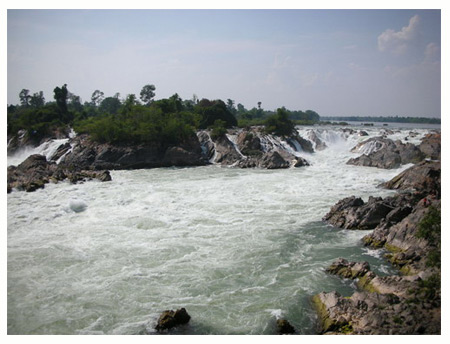 KhonePhaPheng Waterfall (ນ້ຳຕົກຕາດຄອນພະເພັງ) is a large waterfall and a popular in Indochina. The waterfall are located on a large rock blocking the flow of the river line. There are different levels of about 20 meters high waterfall that receive water from the Mekong river. It has been referred to as "Niagara Falls of Asia".
Khonephapheng waterfall has a height of 21 meters (69 feet) of water flowing 9.7 kilometers (6.0 miles) of water falling at a speed of 11,000 cubic meters / second (390,000 cubic feet / second), the highest volume on record has reached over 49,000. m / s (1.7 million cubic feet / second).
Khonephapheng waterfall get nickname " Niagara Falls of Asia". It located in Champasak, Laos from Pakse, about 150 km. It is away down from BanKasang village about 10 kilometers and away from ThaMuang village about eight kilometers into place. It is the famous and most beautiful tourist place of Laos.
The term "Khone" refers to the island and, "PhaPheng" means moon lunar. In addition, PhaPheng waterfall is also the habitat of many rare animal species such as PhaPheng Cor fish. Cor is endemic fish, found only in this region and the habitat of dolphins (Finless porpoise) or "Pa Kha" (ປາ ຂ່າ) in Lao few dolphin species that lives in fresh water in the world. Including the origin of the Mekong giant catfish that is the largest fish fresh water in the world.
Although it even has a layer of rock is not very high, the water plunges down the furious. With the river flowing down, it is split into multiple lines, because of the enormous pressure of the water runoff from the rock plunges falling around. With the landslide, rock and raging fiercely, a landlocked impresses to tourists as statements or explanations and honored as the Niagara Falls of Asia/''/s great rivers. The rocks, leaping, twisting clash at large, the boiling water vapor is distributed as inserts covered by rocks almost every area of ​​the atmosphere.
KhonePhaPheng waterfall is amazing. Can be seen most clearly from the wooden pavilion was built on the north area of ​​the stream where runoff water plunges down to fit together. If you want to experience the grandeur of the falls up close, there is a boardwalk corridor to watch the waterfall area in a different perspective as well.
Some people who live in this area, often risking death climbing bamboo ladders to hook or some fishing, casting into the bottom of the waterfall. There are restaurants with a wide selection menu of fish.
In addition,another important thing is "the jewel descent tree" or the Ma Nee Code tree. It is assumed that the old trees hundreds of years or even millennia. Based on the Mekong rapids. Laos is revered as a sacred tree and is believed to have started in the world. According to legend, known as "indicators tree", if pointed by the head of the branch to someone will die, but if pointed the end point of the branches to the dead will come back revived.

Cutting through the core of the tree ornament, there are three colors: purple, pink and light yellow as egg as a source of Manipur descent.

This tree look seem as similar dilemma with three main branches, one branch turned to Laos. Laotians believe that who eat fruit (betel nut) is caused aging up. One turns to the Cambodian, believe that who eat fruit (betel nut) will become the monkeys. The last one turns to Thailand, believe that who eat fruit (betel nut) will be young. Some people believe that all three branches pointing toward Cambodia, Thailand and Laos means that the three countries will grow as the Emerald of Indochina but no one ever eat fruit from any branch because rushing waters. There are just pelicans and crows often fly to the islands every day.

It is also believed that the branches can treat various diseases including diabetes, liver disease, and paralysis. Even in the days when the French ruled Laos has ever tried to send helicopter flying around. Because insulting the faith of the people of Laos, the helicopter fall down with unknown cause with the belief that a holy tree. Thus, creating a shrine on the banks of the nearby waterfall.

Unfortunately, on March 19, 2012, the tree has toppled over. Why the tree fell believe that because of very old trees and before that with hurricane force winds and rains for three days.

However, there is some news about that. Since the overthrow the tree due to the sacrifice that must be made every year. This was done in the wrong way after the ceremony at 1 pm and 4 pm. When the tree fell, it is shocked for the people of Laos. Now the tree are brought up to the museum at the entry of the waterfall.

The small branches was brought to the altar. Some sold 40,000 baht per branches. Some big branches that float toward the Cambodia were sold at a price of $20,000. There are also a gang of muggers branches are used to pretend to sell the false branches and be arrested.

Unfortunately, The Ma Nee Code tree remain only the name and the legend retold only.

References

www.youtube.com/watch?v=Sw_fI9gX_iw

https://th.wikipedia.org/wiki/น้ำตกคอนพะเพ็ง

www.oceansmile.com/Lao/ConPapeng.htm

www.manager.co.th/Travel/ViewNews.aspx?NewsID=9550000099952

เข้าชม : 1851